Always judge a book by it's cover!!
Make your next project stand out and add a hardback cover.
We have made you an epic, one hour long, hugely informative video guide to showcase all the options that can be chosen for your project.
Children's Books, FMPs, Photobooks
Linen, printed or Colorplan covers
Order 1 copy or more
Free file checks
The highest quality printing
Print test sheets first to check your artwork
Hardback art book printing
Showcase your work with an impressive looking book. Printed to a professional standard on our top of the range HP Indigo presses and case bound on our Kolbus binding line.
The ordering system is fast and efficient – you supply us the finished PDF artwork, we'll check the files, then print it and deliver them back to you quickly.
Case bound books lend themselves to many print possibilities:
• illustrated children's book
• your Student FMP or Portfolio will look stunning as a hard back book.
• a hardback photo book of your latest location shoot.
• for that special agency client, choose a hardback book as a promotional brochure.
• the luxury property you are listing needs a sales book that does justice to it's grandeur.
How long do they take to arrive?
We will aim to deliver the finished case bound book in 6/7 working days after receiving your print ready artwork. Cover foiling and bespoke options add an extra 5-7 working days. We want to print you a perfect book so we don't like to rush any of the processes. If you are working to a crucial hand in deadline then we strongly advise leaving more time incase there are any artwork issues with your files or courier problems with delivery.
What options do I have?
Our insightful video guide methodically takes you through all the options that can be chosen for your hardback book project.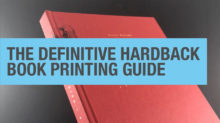 There are a range of sizes to choose from. The most common would be A5 or A4 Portrait but you can choose any size between these to give your book that extra edge of individuality. If landscape orientation works best for your project then we can print up to A4 landscape. We do not charge extra for bespoke sizes – we want you to be creative without adding cost restrictions.
Next up, you also have the option of printed or blank end sheets and fly sheets. End sheets being the single sheet glued to the inside of the case at the front and back of the book. The fly sheet is an additional sheet we add in after the case and before the first page of text at the start and after the last page of text before the case at the end.
Our house papers come in a range of finishes – silk, gloss or uncoated and over a large selection of weights from super thin 90gsm up to super chunky 350gsm. We're always more than happy to send out sample packs if you drop us your address.
What will my book cost?
Our hard back books are very competitively priced and the more copies you order the cheaper the unit price. As a guideline, an A5 book with 40 pages will cost £194 for 1 copy but you can have 2 copies for £198 or 5 for £222. The factors which affect the price are the size, number of pages and quantity.
For an accurate price then take a minute to fill in our online quote form and we'll email you back a quote. Remember to let us know in the comments box that you would like your book to have a hard back cover.
Get started and prepare your file
We understand that the process of preparing can be complicated if you haven't done it before but please do keep in touch and if you have any questions we will answer them quickly and helpfully.
Ultimately, to print your book, we will need the following:
File 1. The outer cover file based on our hardback cover guide, click here to download you can download our hard back cover artwork guide here!. Your spine will be dictated by the number of inside pages and which paper weight you choose. The cover file is slightly trickier for a hard back book because you have to include scope for the sections which are folded round the spine and the extra flaps that tuck round the hard back case.
On our guide, the black areas are the flat sections of the book cover so should contain your main cover artwork. The grey areas will be on the folds or partially hidden when the cover is glued on so keep any important information out of them. The white areas are bleed and should be a continuation of your background colour if you have any.
File 2. If you would like the endpapers printed then you could supply a pattern or solid colour for those.
The front endpapers: This a two-page file with two double-page spreads at twice the width of your text pages. Page 1 is the first spread when you open the book's cover. Page 2 is the reverse of the endpaper so keep the right-hand half of that page blank because it's glued to the inside cover.
File 3. The back endpapers. Again, this a two-page file with two double-page spreads at twice the width of your text pages. Page 1 is the last spread before you close the book's back cover. Page 2 is the reverse of the endpaper so keep the left-hand half of that page blank because it's glued to the inside back cover.
File 4. The inside text pages – your main content. This is supplied as single pages rather than spreads and in reading order. Our video guide showcases many page layout ideas that really work for children's books, photography books and high end coffee table books.
All files need crop marks and 3mm bleed, please. When you export frm Indesign to pdf choose PDFX/1A. You can choose this from the top drop down menu when you export to PDF.
Any problems do give us a shout!