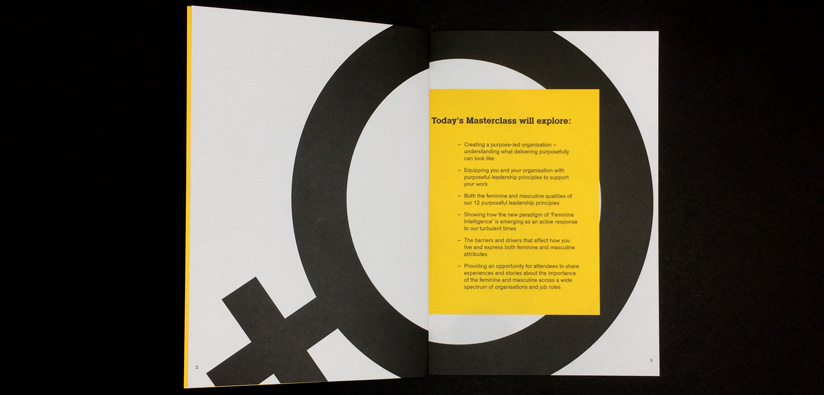 Pulse Brands Unleashing the Feminine | Insight Reports
Spec
A5 Books
4pp Cover onto 300gsm Uncoated
Matt Lamination to outer
36pp Text onto 120gsm Uncoated
Full colour print throughout
Trimmed, collated and perfect bound
Case Study
This is an ideal print spec for a promotional book whether it be for you or your business. A 300gsm Uncoated cover with matt lamination and 115gsm Uncoated inside pages works well. A 4 page cover and 36 inside pages is cost-effective and professional in appearance.
For more information about Pulse Brands and their work:
http://www.pulsebrands.com/purpose
http://www.pulsebrands.com/masterclass_unleashingthefeminine
Over the last two years, Pulse has led a series of masterclasses around a set of leadership principles that can be deployed to help individuals, teams and organisations to be at their best. On March 7, Pulse held their sixth masterclass 'Unleashing the Feminine'. With attendees from different backgrounds and industries, the session kick-fired discussion on how and why feminine qualities are critical to addressing issues from climate change to social exclusion. Co-hosted by Simon Milton from Pulse and Karen Downes from The Flourish Initiative the workshop ignited a discussion on how we can move away from the old-world patriarchal mind-set. We have picked out six major insights but in reality the event is part of a long journey for many in the audience covering multiple complex issues.
The insights:
– Exploring the feminine provides a powerful lens to understand the largely masculine world we live in – and this understanding helps to create a useful insight into what needs to change. Since organisations have historically based themselves on masculine behaviours it's not surprising people can struggle to be and feel wholly present. – There was a clear belief that both the masculine and feminine aspects of the 12 Purposeful Leadership Principles are equally important in addressing the issues we face. For example, our goal-driven world (masculine) needs to pay equal attention to the health of the system/ community/team (feminine). – Talking about the feminine and masculine qualities is only useful if it helps us become better versions of what we are. For example, an understanding that there are many different feminine and masculine qualities of courage or humility within us is important.