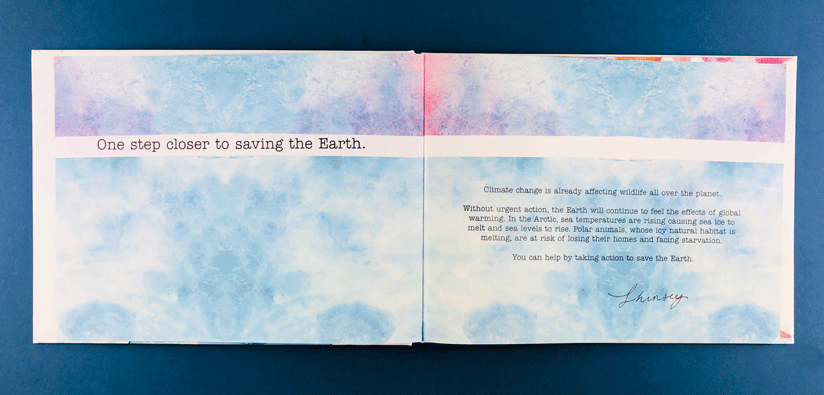 A Melting Planet by Yasmin Kinsey | Hardback children's book
Spec
203x273mm Landscape Books.
4pp Cover onto 170gsm FSC Silk.
Matt Lamination to outer.
Wrapped over grey board case.
28pp Text onto 170gsm FSC Gloss.
Printed endpapers onto 150gsm FSC Woodfree Uncoated.
Four colour print throughout.
Trimmed, collated and case bound.
1k off.
Case Study
It's 2020 and it has never been easier to self-publish a book. Brilliantly, you don't even need a publisher anymore. Jump on Kickstarter or a crowd funding website and tell the world about your great publication!‬ That's exactly what the authors did with this book and raised plenty enough money to cover their print costs.
‪The Kickstarter campaign takes a month and the money will be in your bank a few days later. Then you're at the exciting part where we transform your ideas into print! ‬
‪Send the print-ready pdf to Ex Why Zed (do touch base with us a few months before and we can quote the job so you'll know how many copies you can print for £x). We will deliver the finished printing back to you in 4-10 working days (depending on print specs and run length). ‬
Next is that super exciting moment when a glorious stack of boxes arrives and you unpack the first book. YOUR BOOK. Your book that you wrote and self-published. Enjoy the feel and the smell of them…you worked hard for this moment.