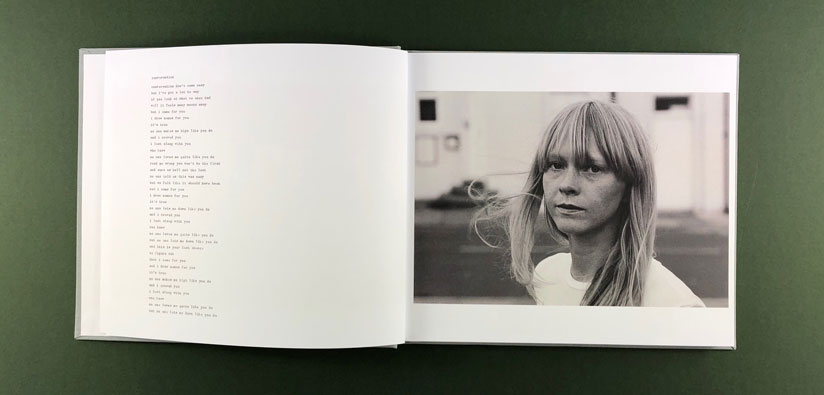 Lucy Rose No Words Left
Spec
190x220mm Landscape Case Bound Books.
Cover onto Wicotex Brillianta (Colour: Hellgrau)
White foiling to outer.
Wrapped over greyboard case.
2x 4pp End Papers Printed onto 170gsm Uncoated.
98 inside pages onto 170gsm Uncoated.
Four colour print throughout.
Trimmed, collated and case bound.
Case Study
No Words Left, is another brilliant photography book. This was produced by her company to accompany her recent UK tour. Lucy's a brilliant musician, now onto multiple albums, very highly acclaimed and this was to accompany her No Words Left album. It depicts the process of recording the album, so the photography gets quite close and personal. It's a really, really insightful look at what it takes to record an album. It's a brilliant book for her fans. We've said this a number of times before, but black and white photography is always tricky. You either convert your images to greyscale in Photoshop and when they print, they do a print flatter. What we've done here is we've left them in CMYK and really tried to take down the cyan and left a touch of magenta in so that it gives it some warmth.
Fortunately, just in print in CMYK or in greyscale you're never going to get the pictures looking the same as they do on screen where you've got a back lit monitor and the blacks are a lot punchier. They just never appear like that in print. You might want to go for full-colour images really. Having said that, this is an awesome way to do it. Like I said, it got a bit of a magenta glow. The front cover, the hardback is wrapped with WICOTEX Brillianta and they've gone for the Hellgrau colour. It's a medium grey and we have white foiling over the front of it as well. You really have to dig the white foil into this to actually get any purchase because it's quite a coarse material. It's quite opaque and it's effective. It works well. It's a really neat front cover with the white on the grey. You open it up and you've got blank end papers this time.