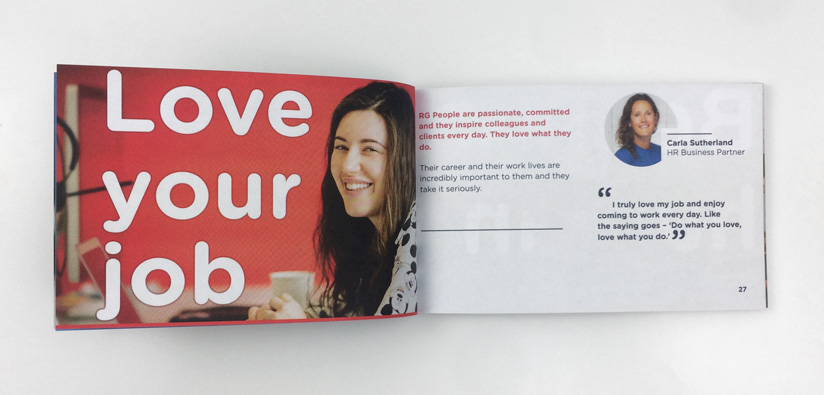 Our Culture Book | Reward Gateway
Spec
90x150mm Landscape Books
4pp Cover onto 250gsm Uncoated
Matt Lamination to outer
92pp Text onto 120gsm Uncoated
Full colour throughout
Trimmed, collated and perfect bound
Case Study
A culture book serves as a great way of inspiring your staff whilst showcasing the company's workplace ethos and values. Empower the team with a wealth of knowledge, tactics and practices to improve their day to day job enjoyment. Publishing a culture book marks your business out as forward thinking and progress – you want to have a happy work force who buy into the bigger picture.
This compact size is ideal for colleagues to carry round with them in the office, snuggle next to their desk monitor or recap on the tube. Print any quantity from one to tens of thousands.
From Reward Gateway:
Our culture is what drives us
Company culture is more than having a table tennis or foosball table. It's about how we treat people, how we work together and the shared understanding of values that drive inspiration and innovation for our clients. We see a world where people expect more from work. Where everyone can expect to be challenged, inspired and valued. And this world happens to include a lot of #RGFun along the way.
What we believe
This mission, to make the world a better place to work, led us to create Reward Gateway, the place where we deliver products to connect organisations and their people together. Our products create an opportunity for you to reward, thank, involve, understand, communicate and connect employees with the business. But it's our creative, passionate people that transform our products into a service employees use, value and love. That's the magic behind our employee benefits company.