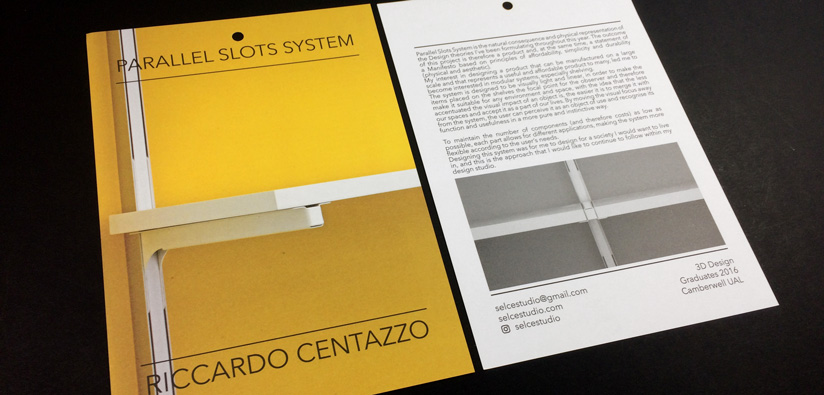 Camberwell 3d Design show publication 2016
Spec
A5 Leaflets
Full colour double sided
onto 150gsm Uncoated
Trimmed to size with a 5mm hole punched in the centre, 12mm from the top.
24 versions with 2,500 of each
Case Study
Camberwell College of Arts 3D Design graduates designed and produced a concept that is demonstrative of their problem-solving abilities developed during their degree. The printed product consisted of a set of 24 cards each one representing each of the graduates, with a synopsis of their work and a photograph of the finished piece. Each card was printed onto 150gsm Uncoated stock which reflected the simple and considered design. Holes were drilled centrally at the top of each card, with the objective of being able to place the card onto a peg board. All 24 cards would be hung on the peg board, enabling the visitors to grab their favourite (if not all!) examples of the graduate's work. We hadn't seen this method of display before but it proved to be very effective.
We were excited to be part of this project, and to be involved in a hands-on approach that not only looked visually exciting, but also lent itself to the very nature of the course.
Testimonials
"I just wanted to say we have received our catalogue and everything is fantastic and it looks the bomb. Thank you soooo much for the short notice work and you will definitely hear from me again if I ever need anything printed.
A BIG THANKS FROM ALL OF 3D DESIGN!!"
Nick Shanks, Camberwell 3d Design and End of Year publication co-ordinator.